Rock Art in the western Alps -
ARchive Online project
---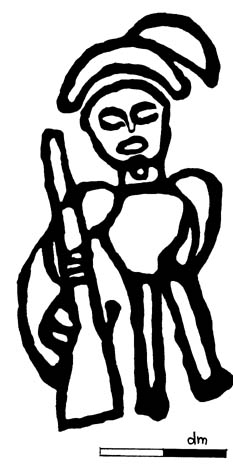 Ca' 'd Marc, il rilievo del soldato con moschetto (parete frontale, rilievo GRCM)
Ca' 'd Marc, the tracing of the soldier with gun (front wall, GRCM tracing)
---
Sui Sentieri dell'arte rupestre Le rocce incise delle Alpi, storia, ricerche, escursioni

44 escursioni alle più importanti aree incise delle Alpi. 184 pagine in bianco e nero e a colori.

Acquistalo ora online

(Paypal - carta di credito): 10 € in sconto web comprese spese di spedizione (Italia).

Walking on the rock art paths (in Italian). The most complete guide to the Alpine rock art . 184 pages, 44 full described trails (I-FR-CH-AU). 158 tracings and pictures, 20 maps, 21 boxes on Alpine culture.

Buy it directly online

(Paypal or Credit Card): 10 € (Italy) or 15 € (Europe) shipping included.
---
A cura del Gruppo Ricerche Cultura Montana, via Pastrengo 13 - Torino, Scrivici

Arte Rupestre
in Valle di Susa

Intro | Back | Indice

Testi e Immagini non possono essere utilizzati a scopi commerciali - copyright GRCM
Texts and pictures copyright GRCM - no commercial utilisation is allowed

© Andrea Arcą 30-Jun-96,09:27:58